The Milano is a luxury contemporary style album which cannot fail to impress. It is handmade in Italy from materials that look and feel like leather, with an uncompromising attention to detail and design flair – right down to the bespoke cotton bag to protect the matching carrying case the album is supplied with.
The album measures approx 13¼"x13″, and is of traditional bookbound construction. The ivory cover is plain – so the album could be used for showcasing other types of photography – portraiture, events, product ranges etc. – as well as wedding photography. The 15 black slip-in leaves hold up to 30 prints with or without overlays. Without overlays, the maximum print size is 11″x11″ and it takes just a few seconds to slide the print in, without need for any adhesives.  This allows prints to be easily changed at a later date.
There is only one of these albums available, and it is priced at just £100.00.
The album is supplied with a total of 45 overlays, which allow you to display between 1 and 4 prints per page. The maximum print size when using overlays  is 10″x10″ (see illustration below).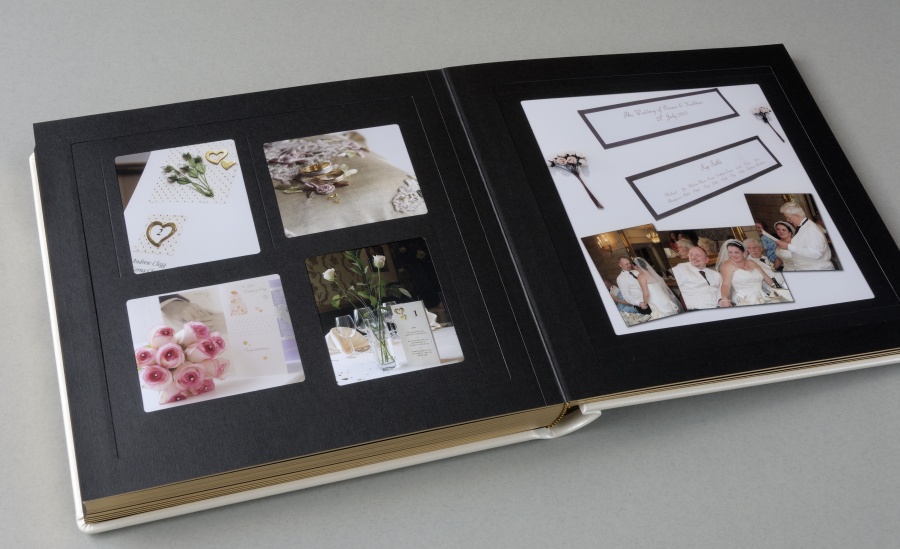 This is not a new album – I have used it as a sample album and it has the word "Sample" discreetly embossed on the back cover. It made a very effective sales tool, with several clients saying that they decided to book my services as soon as they saw the album. And there was me thinking that it was my photography skills……
The album is in excellent condition, and there are no visible marks on the outside cover or leaves. Many of the included overlays are completely new and unused. There are, however, a couple of small tooth marks on the carrying case – caused by a client's kitten having a crafty gnaw while I was distracted!
This album is still being made today, and the new price of this package would be just a few pence short of £300.00. I am selling my example for just £100.00 – a real bargain for such a stunning album. Please contact me as soon as possible if you are interested in this album, as I only have this one example for sale.
The album is for sale in Chesterfield, Derbyshire. I am happy to send it by post, but please be advised that (due to its substantial weight) carriage charges will be quite high, and will be in addition to the price above.
You can see details of all the other wedding albums I have for sale here.